Zahara Tours is Oman's leading Destination and Leisure Management Company. A 3 times winner of the tourism venture award at the Oman awards for the excellence therefore considered the pioneer of tourism business in Oman.
SERVICES:
In our 35 years of service, we have acquired a reputation for providing a highly professional and personal service for a wide variety of clients from individuals and families, to specialist groups, cruises, incentive tours and conferences.
Oman as a destination
Oman officially called the Sultanate of Oman is an Arab state in southwest Asia on the southeast coast of the Arabian Peninsula. Oman is known for its popular tourist attractions. Wadis, deserts, beaches, and mountains are areas which make Oman unique. With a coastline of 1700 km, Oman offers clean beaches popular with visitors. Wadis are green, lush oases of palm trees, grasses, and flowers. Some wadis have year-round running water, with deep, cool pools in which it is quite safe to swim if the currents are slow.Muscat, the capital city of Oman lies sparkling white, topped with golden minarets in the middle of a maze of brown pleated mountains reaching down to the Arabian Sea. Described as "Arabia's jewel", this city is a blend of the old and the new. Muscat is green as green can be, and defies being classified as part of a desert country. The roads are lined with well-manicured green lawns and trees. During winter this is interspersed with a profusion of multicoloured flowers.
Popular tourist activities also includes sand skiing in the desert, scuba diving, rock climbing, trekking, surfing & sailing, cave exploration, birdwatching, bull fighting, and camel races. The Sohar Music Festival happening in Sohar every October/November attracts more and more tourist each year. The Muscat Festival, usually held in January and February where traditional dances are held, temporary theme parks open, and concerts take place. Another popular event is The Khareef Festival held in Salalah, Dhofar, which is 1,200 km from the capital city of Muscat, during the monsoon season (August) and is similar to Muscat Festival. During this latter event the mountains surrounding Salalah are popular with tourists as a result of the cool weather and lush greenery, rarely found anywhere else in Oman.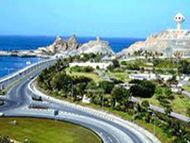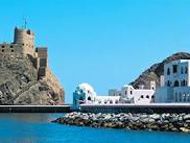 Recommended Best Itinerary :