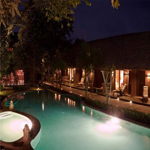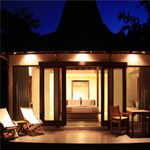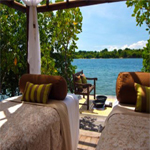 Location
The Menjangan is a peaceful retreat located in the heart of an unspoiled national park on the stunning north west coast of Bali. It is the largest resort with 382 hectares within the boundaries of the Bali Barat National Park and offers guests the chance to get close to nature and relax in exquisite surroundings.

Accommodation
Monsoon Lodge: 14 deluxe rooms (50 sqm) and 2 Suites (75 sqm)
Sentigi Beach: 7 one bedroom beach front villas (105 sqm)
The Menjangan Residence: 3 bedrooms private state (1,000 sqm)

Food and Beverages
Bali tower restaurant
-serves Mediterranean and Indonesian cuisine, opendaily from 7am to 23pm.
Pantai Restaurant-
located at Sentigi beach, specializes in seafood and BBQ using fresh local seafood opens from 7 am to 23 pm.
Azur Lounge-
a casual outdoor space with bean bags and day beds scattered onthe beach, chill out music and candles after dark, complements Pantai Restaurant opens from 11 am to 23 pm (depending on weather conditions).
Personalized meals,-
private BBQ's and candle light dinners can be arranged by our culinary team either by the beach, at the Bali Tower or in the privacy of your ownvilla.

Other Facilities
Main swimming pool
Hot tub at Monsoon Lodge
Dive shop.
Horseback riding,
Diving
(Operatedby Blue Season Bali)
Snorkeling,
Trekking
Biking trips, bird watching,
Night fauna walks and programs
Kayaking
Cooking classes
Endemic treeplanting program.