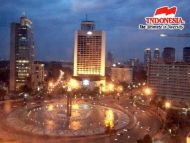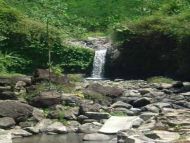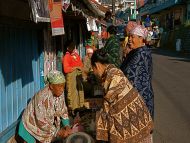 Day 1: Jakarta - Arrival
Arrive at Jakarta Airport, meeting service and transfer to hotel.
Overnight in Jakarta.
Day 2: Jakarta - Bogor - Bandung
Start from Hotel in Jakarta, depart by air conditioned coach for Jakarta City Sight Seeing visiting to the National Museum and Old Harbour Sunda Kelapa, then proceed to Bogor for a visit the well known Botanical Gardens; Continue to Bandung via Cipanas.
Overnight in Bandung
Day3: Bandung
Breakfast at Hotel. Scenic drive through Lembang hills o the crater of Mount Tangkuban Perahu and to Sariater hot springs. Then proceed to your hotel.
Optional: Tour to Padasuka village to listen to the melodious sounds of Angklung music using bamboo instruments.
Overnight in Bandung.
Day 4: Bandung-Garut-Tasikmalaya-Baturaden
Breakfast at Hotel. Depart to Cangkuang Lake, a small lake in the vaccinate of Garut around 70km south Bandung, visit the Cangkuang temple, the first temple ever found in West Java standing on an island in the middle of the lake reaching it by crossing the lake on bamboo rafts. Continue to Tasikmalaya and visit local handicraft. Proceed to cross the border to Central Java passing teakwood and rubber plantations to Baturraden.
Overnight in Baturraden.
Day 5: Baturaden-Dieng Plateau-Jogjakarta
After breakfast drive to Wonosobo. Excursion to Dieng Plateau (about 2200m above sea level) with some of Java's oldest temples standing on an open field. 
Drive further to City of Jogjakarta.
Overnight in Jogjakarta
Day 6: Jogjakarta
Breakfast at Hotel, morning Borobudur Temple Tour, visit the massive stone stupa of Borobudur is one the greatest of all ancient architectural monuments. 
Built with forced labor from the surrounding countryside between AD 750 and 850, Borobudur predates Angkor Wat in Cambodia by three centuries. Though a Buddhist creation, it incorporates Persian, Babylonian and Greek influences.
Its ensembles of stones relief panels are virtual history of Mahayana Buddhist doctrine as well as providing scholars with detailed information about life in 8th and 9th century Java. If you were to look at every gallery from base to summit, you would walk for more than three miles. Soon after its completion, the local rulers were overthrown by the Hindus and Borobudur was abandoned. Buried under volcanic ash and tropical growth, it was only rediscovered in 1815. It has recently been fully restored by an International effort under the aegis of UNESCO. In nearby villages, you can still see stone masons working in much the same manner as the peasants who built this astonishing monument. Also the nearby a smaller but of some importance Pawon and Mendut temples can be visited.
Proceed to City of Jogjakarta.
Overnight in Jogjakarta
Optional: Jogjakarta City Tour and Prambanan Temple
Optional: Dinner performance at Purawisata, experience by local transportation "Becak" (local tricycle)
Day 7: Jogjakarta - Malang
NOTE: TRANSFER OUT TO JOGJA AIRPORT OR TRAIN STATION PROVIDED IF THE TOUR END IN YOGYAKARTA
Depart from Hotel to Malang driving via the town of Solo with visiting to Mangkunegaraan Palace in Surakarta (Solo).
Overnight in Malang.
Day 8: Malang - Bromo
Breakfast at Hotel. Malang is known as an old colonial retirement town with some colonial buildings,refreshingly green parks and streets. In the afternoon drive to Sukapura village at the slope of Mt. Bromo.
Check-in at your Hotel.
Overnight in Bromo.
Day 9: Bromo Out - Kalibaru
Early Morning Bromo Excursion, drive to the village of Ngadisari and continue your journey from the rim of the old crater down into the caldera cross the sand-sea to smoking crater of Bromo to watch a spectacular scene during sunrise.
After excursion, return to the hotel for a short rest and breakfast.
NOTE: FOR THOSE WHO DOES NOT CONTINUE THE TRIP TO BALI, TRANSFER OUT TO SURABAYA AIRPORT FOR YOUR NEXT DESTINATION. CONTINUE TRIP TO BALI
Drive to Kalibaru via city of Probolinggo, Jember and Jatiroto, at noon arrive at hotel in Kalibaru continue to walk visiting nearby village to see coffee and cocoa plantation.
Overnight in Kalibaru
Day 10: Kalibaru - Bali
Breakfast to Hotel. Morning drive to Ketapang harbour cross the Straits of Bali by ferry. Once in Bali, your last lap takes you along the beautiful west coast of the island in the direction of Denpasar.