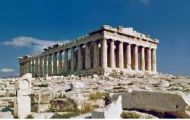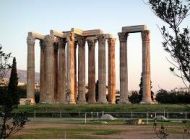 Day 1 (every Wednesday)


Arrival at Athens International Airport.Meet and greet with our representative and transfer to your hotel in Athens for check in. Dinner at the hotel and overnight in Athens.


Day 2

Breakfast at your hotel. After breakfast meet with your private guide and driver and depart by a/c coach for a full day tour of Athens (maximum 8 hours), where you'll start with a panoramic drive of the town: You'll see the Panathenaic Stadium where the first Olympic Games of modern times were held in 1896 (short stop). Continue and pass by the Prime Minister's residence (Ex Royal Palace) guarded by the Evzones in their colorful uniform, the Temple of Olympian Zeus, the Hadrian's Arch, the Parliament and the memorial to the Unknown soldier, the Academy, the University, the National Library, The Constitution Square (Syntagma). Arrive in Acropolis and visit the Architectural Masterpieces of Golden Age of Athens: The Propylaea, the Temple of Athena Nike, the Erechtheion and finally "the harmony between material and spirit" , the Monument that "puts order in the mind" , the Parthenon. Then walk down to the Ancient Agora, where you'll see the temple of Hephaestus and the Stoa of Attalus. Continue strolling to Monastiraki area and Plaka area and have some free time for shopping. Then continue to the place where at last the statues found their home and admire the wonders of the classical era: The new Acropolis museum. Return at the hotel.

In the evening we propose you optional a Greek dinner in the Center of Athens, like Plaka or Monastiraki. Overnight in Athens.

Day 3 – Day 9
After breakfast at the hotel, meet out representatives at the hotel and be transferred to Lavrion port with a/c coach for embarkation on the cruise ship for a 7 days cruise, with the itinerary as follows:
Day 10

Early morning arrival in Athens (Lavrion port).  Meet our representatives outside of the customs area at  08:00am and then be transferred with the a/c coach to hotel hotel in Athens. Rest day is Free. Overnight in Athens.

Day 11

Breakfast at the hotel , check out at 12;00pm, and be transferred with the a/c coach to Athens airport for your international flight.